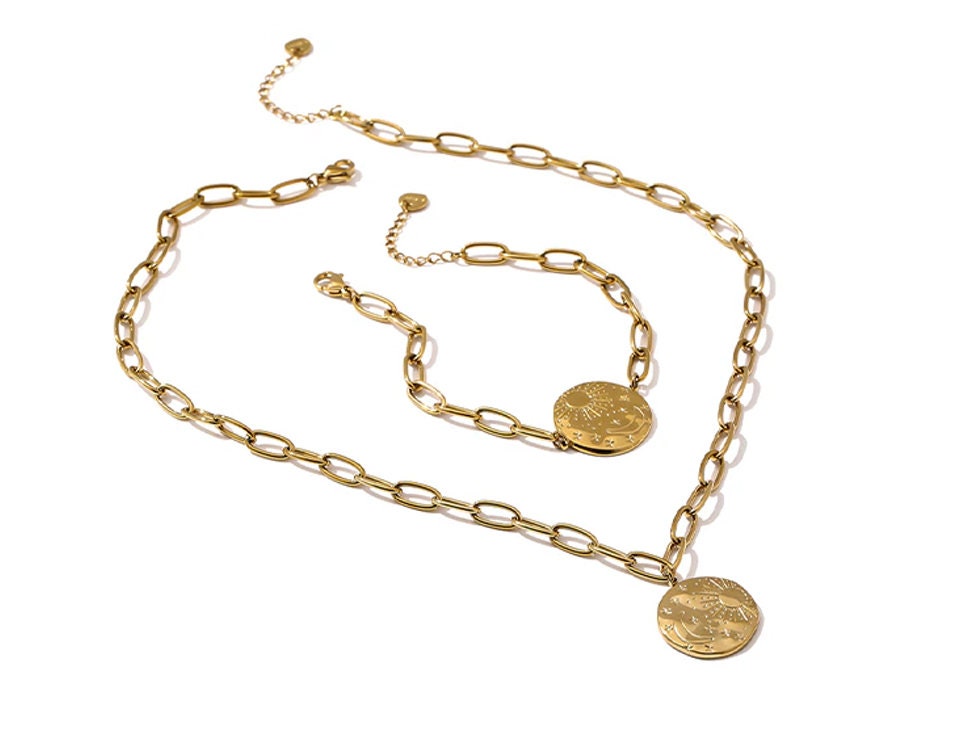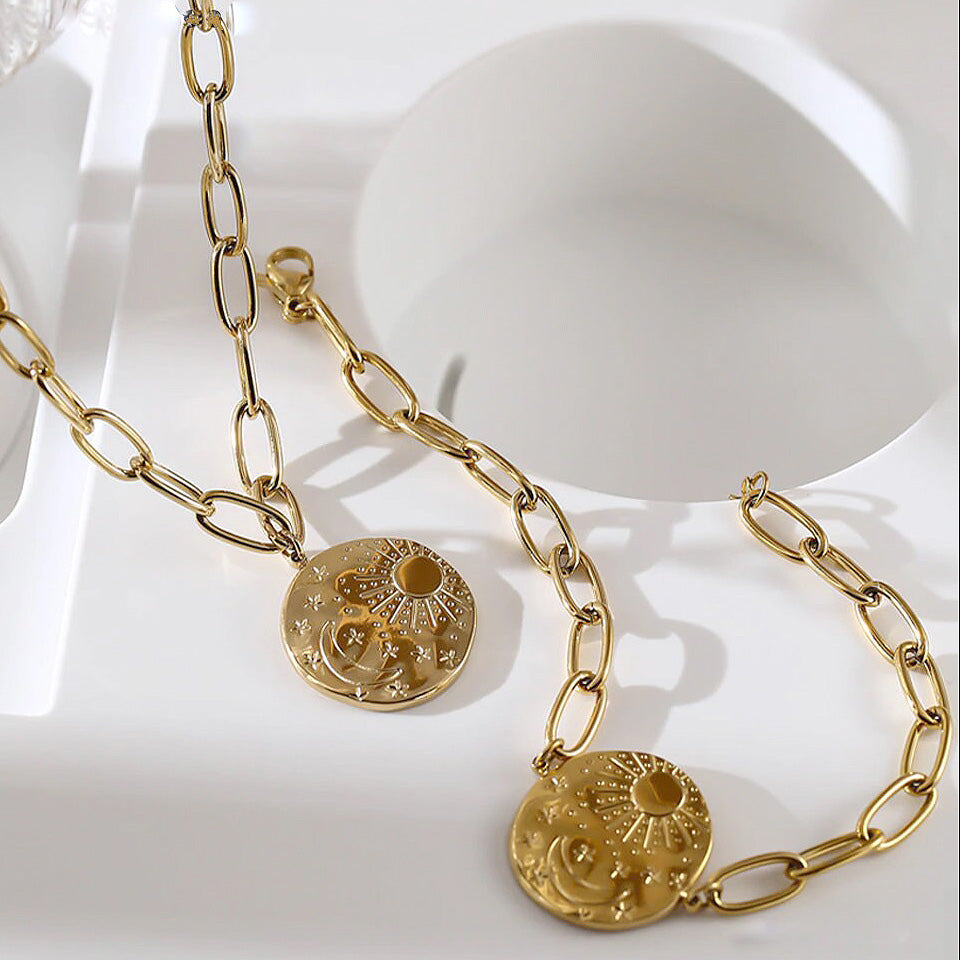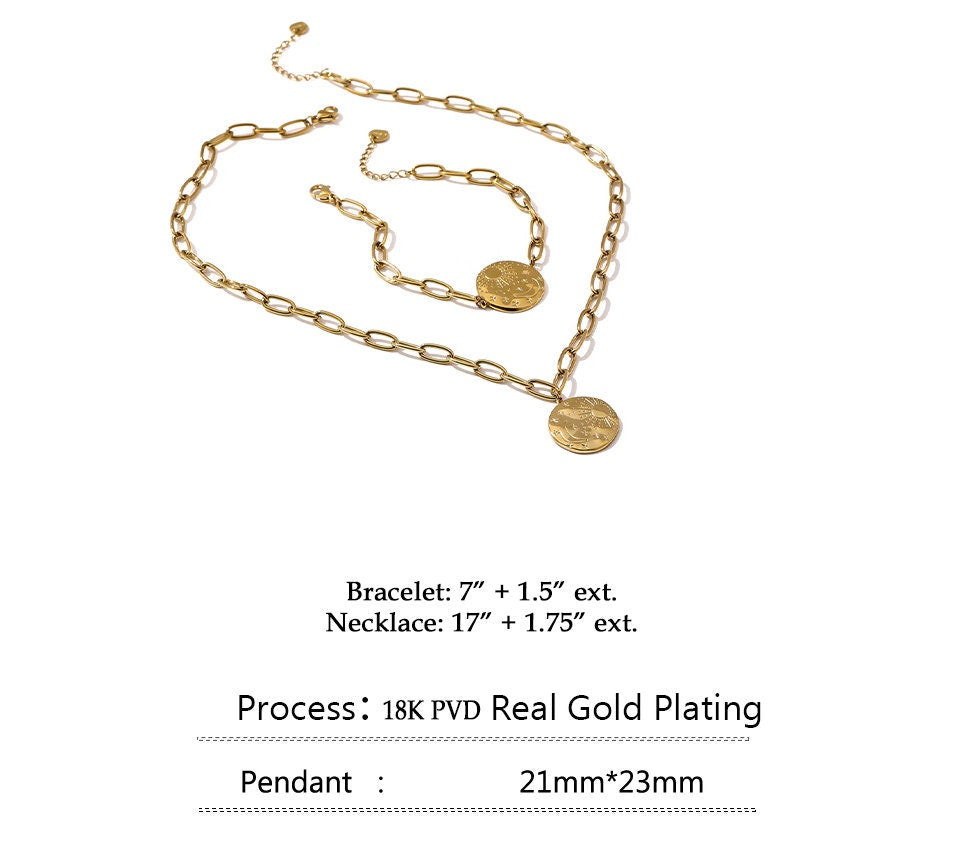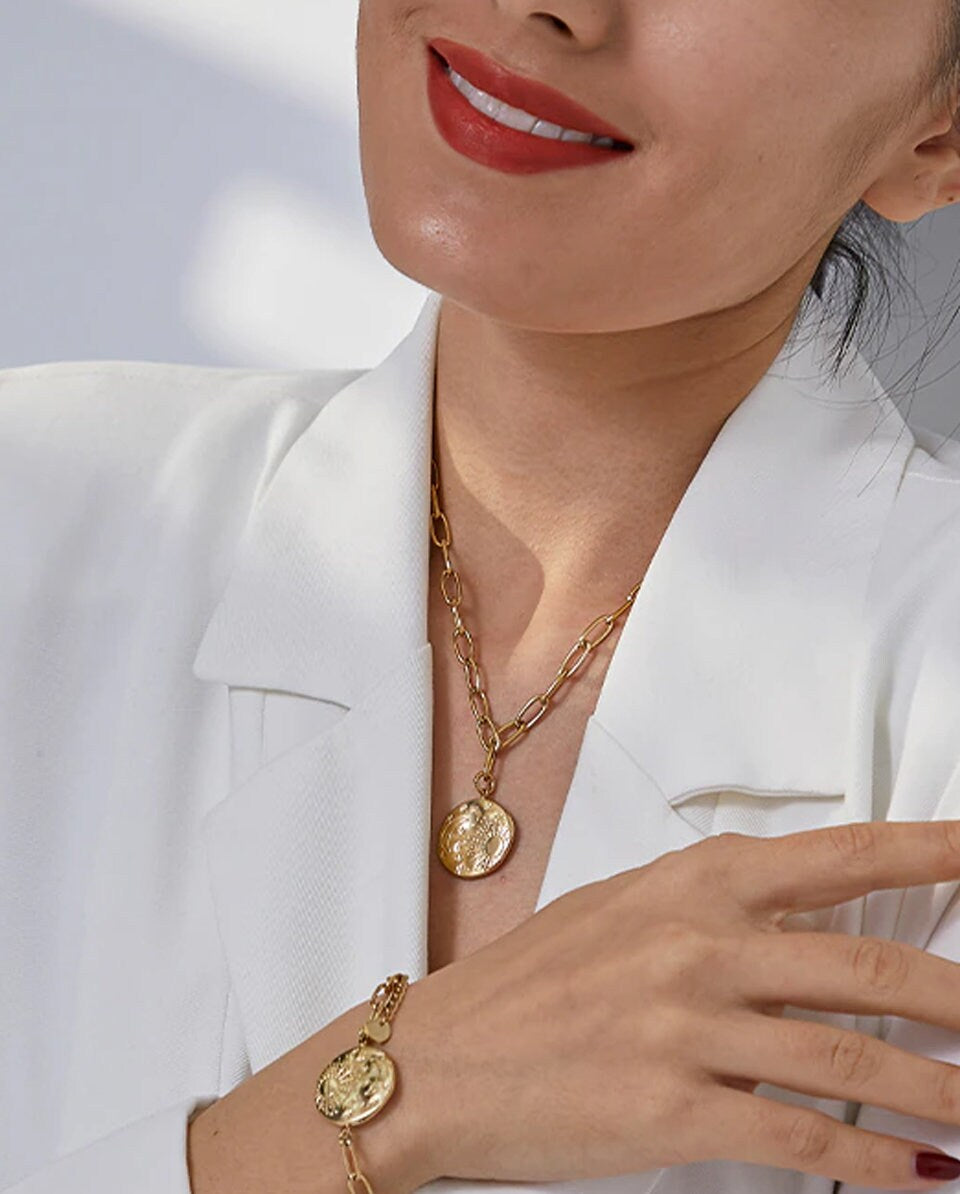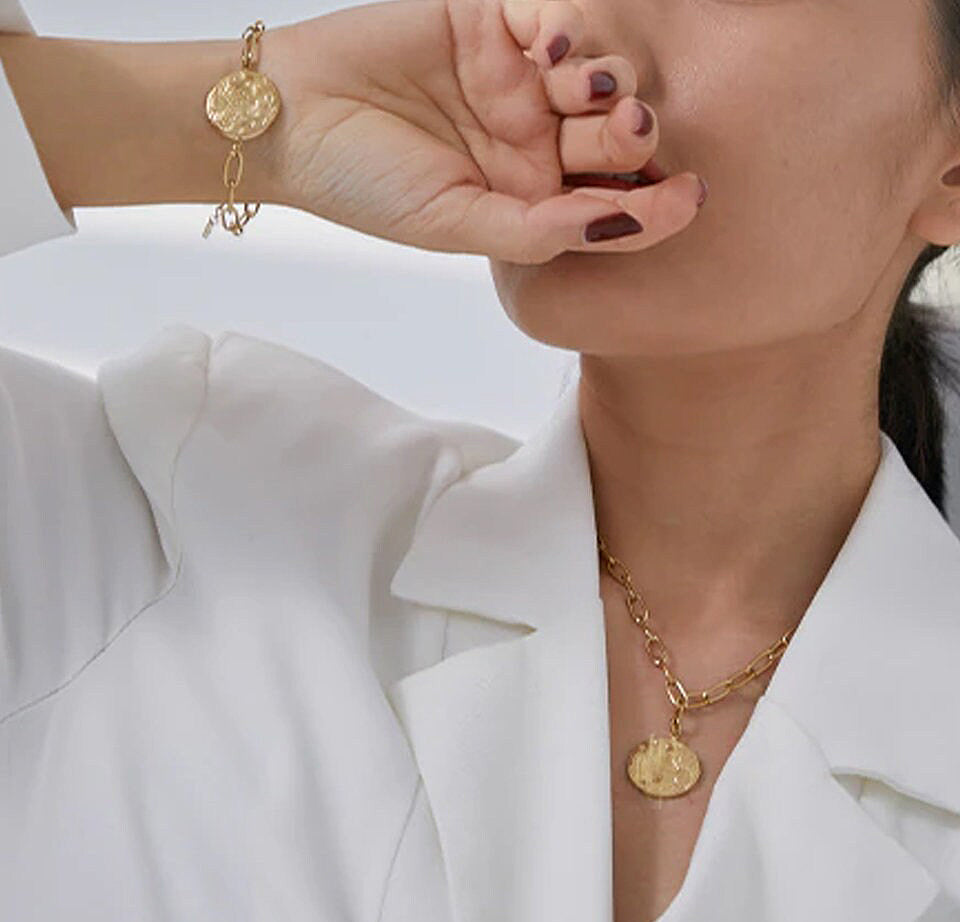 Celeste Sun Moon & Stars Bracelet and Necklace
---
---
The Sun Moon Star Necklace and OPTIONAL Matching Bracelet is a celestial-inspired jewelry ensemble that beautifully captures the magic and mystery of the night sky. Crafted with attention to detail, these pieces feature delicate pendants etched with the sun, moon, and stars.
The necklace showcases a central pendant that combines the sun, moon, and stars in a harmonious design. The sun symbolizes vitality and energy, the moon represents intuition and femininity, while the stars evoke dreams and aspirations. Each pendant is intricately crafted with fine details, creating a captivating and enchanting effect.
The matching bracelet complements the necklace, allowing for a coordinated and cohesive look. The bracelet features a chunky paperclip chain that fits comfortably around the wrist, ensuring a perfect fit.
Both the necklace and the bracelet are made from high-quality 18k PVD Gold materials, ensuring durability and a polished finish. The celestial motifs and elegant craftsmanship make this set a versatile and stylish choice for everyday wear or special occasions.
The Sun Moon Star Necklace and Matching Bracelet serves as a reminder of the beauty and interconnectedness of the universe. It can be worn as a symbol of spirituality, a reflection of personal beliefs, or simply as a fashionable accessory that adds a touch of celestial charm to any outfit.
Necklace:
18K gold / Stainless Steel

Pendant 

21mm x 23mm

Length: 17" + 1.75" extension

Water & Tarnish Resistant
Bracelet:
18K gold / Stainless Steel

Pendant 

21mm x 23mm

Length: 7" + 1.5" extension

Water & Tarnish Resistant
Each piece of jewelry that you order comes wrapped in a beautiful organza bag. If you would like your items to be gift wrapped, please select our Gift Package Option during checkout.
This piece can stay in perfect shape for a lifetime with just a little bit of proper care when needed!
To Avoid Tarnishing:
- Remove it while swimming, showering, and exercising
- Remove while applying beauty products (Perfumes, Lotions, etc.)
If It Needs Cleaning:
- Wipe it with a soft cloth
- Avoid "jewelry cleaner"
We offer standard, priority, and express shipping. Shipping is free on orders over $75.
Standard Shipping ($6):
Priority Shipping ($15):
Express Shipping ($30):
Each piece is beautifully wrapped and packaged in an organza bag for every order, but if you would like to order it as a gift, you can select "add gift box" at checkout where you can add a personalized message for the recipient as well!
We offer full refunds if you are not satisfied with your purchase. If you would like to return the piece for a replacement or something new, you just have to cover the cost of shipping it back to us, and we will replace the piece and pay for return shipping as well. Click here for more information.
If you have any special requests or questions regarding anything, please feel free to chat with us in the bottom right chat bubble!
---